It is a comprehensive cover covering your home contents and your personal possession against fire, lightning, water damage, explosion, earthquake, windstorm, flood, malicious damage, impact damage, aircraft damage and riot and civil commotion.
Additional benefits:
Theft by forcible and violent entry, of contents from your house
Occupier's liability of you and your family
Plus Accidental damage due to landslip/landslide
Loss of Money
Replacement of damage locks and keys
Loss or damage to pedal cycles
Debris removal
Out of pocket expenses
Repair of doors or windows
Title, deeds or documents
Coin, medal and stamp collections
Fire Brigade charges
Freezer Food
Order to Evacuate by Government Authority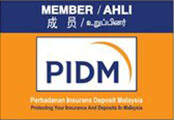 The benefit(s) payable under eligible certificate/policy/product is(are) protected by PIDM up to limits. Please refer to PIDM's TIPS Brochure or contact The Pacific Insurance Berhad or PIDM (visit www.pidm.gov.my).