We only issue policies on the standard Marine Cargo policy forms together with the new Institute Cargo Clauses or Clauses approved by PIAM. Incorporation of any non-standard clauses or warranty is not allowed without prior approval from the Company. The three basic sets of Institute of London Underwriters Clauses are :
Institute Cargo Clauses A
Institute Cargo Clauses B
Institute Cargo Clauses C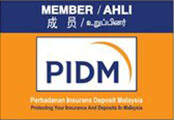 The benefit(s) payable under eligible certificate/policy/product is(are) protected by PIDM up to limits. Please refer to PIDM's TIPS Brochure or contact The Pacific Insurance Berhad or PIDM (visit www.pidm.gov.my).