This product covers accidental death, permanent disablement, temporary total or partial disablement, 24 hour worldwide and medical expenses. Please refer to the scale of benefits for death and disablement in the policy contract.
The total premium that insured have to pay may vary depending on the total number of days travelling and the compensation benefits as per the underwriting requirements of The Pacific Insurance Berhad.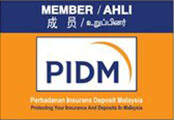 The benefit(s) payable under eligible certificate/policy/product is(are) protected by PIDM up to limits. Please refer to PIDM's TIPS Brochure or contact The Pacific Insurance Berhad or PIDM (visit www.pidm.gov.my).