This product provides compensation caused by an accident to the Insured Person whilst travelling (International and Domestic). The cover extend to include the following benefits:
Accidental Death and Permanent Disablement
Medical and Others Expenses
Medical Inconvenience Benefit
Emergency Medical Evacuation
Compassionate Visitation Expenses
Repatriation Expenses
Curtailment Expenses
Loss of Deposit or Trip Cancellation
Travel Delay
Missed Departure
Travel Misconnection
Loss/Damage to Personal Property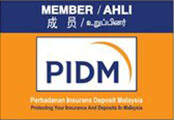 The benefit(s) payable under eligible certificate/policy/product is(are) protected by PIDM up to limits. Please refer to PIDM's TIPS Brochure or contact The Pacific Insurance Berhad or PIDM (visit www.pidm.gov.my).
DOCUMENTS RELATED TO COVID-19 ADD-ONS (EFFECTIVE FROM 1 JULY 2023)