This product provides compensation for bodily injuries sustained resulting in death and permanent disablement to the driver and passengers while entering, riding in or alighting from the vehicle named in the policy.
The cover extends to include Medical Expense.
Medical Expenses
Please refer to the scale of benefits for death and disablement in the sample policy/policy contract. Duration of cover is one year.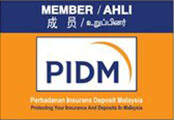 The benefit(s) payable under eligible certificate/policy/product is(are) protected by PIDM up to limits. Please refer to PIDM's TIPS Brochure or contact The Pacific Insurance Berhad or PIDM (visit www.pidm.gov.my).