This policy provides 24-hour worldwide plan that will compensate you for injury, disability or death caused by accidental
means, and expenses incurred for Emergency Medical Evacuation.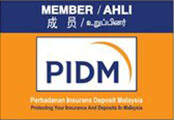 The benefit(s) payable under eligible certificate/policy/product is(are) protected by PIDM up to limits. Please refer to PIDM's TIPS Brochure or contact The Pacific Insurance Berhad or PIDM (visit www.pidm.gov.my).