Product Overview
This policy provides Domestic Assistance and/or International Assistance should the insured person (Malaysians and Permanent Residents of Malaysia) suffers from a serious medical condition.
Coverage
International Assistance
Emergency Medical Evacuation, Emergency Medical Repatriation, Repatriation of Mortal Remains, Compassionate Visit, Return of Minor Children and Others Assistance (Telephone Medical Advice and Evaluation, Referral to English-Speaking Lawyer/Bail Bond Referral to Interpreter Service, Despatch of Doctors, Medicine and Hospital Admission Guarantee, Emergency Message Transmission and Inoculation and Visa Requirement Information)
Domestic Assistance
Emergency Medical Evacuation and Emergency Medical Repatriation
Ambulance Services
For more information on Emergency Medical Assistance, please refer to the Brochure and Product Disclosure Sheet.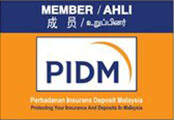 The benefit(s) payable under eligible certificate/policy/product is(are) protected by PIDM up to limits. Please refer to PIDM's TIPS Brochure or contact The Pacific Insurance Berhad or PIDM (visit www.pidm.gov.my).
Questionnaires and Forms
Medical Claim Forms