Product Overview
This policy provides a lump sum payment should the Insured person suffers from illness as defined in the policy. The lump sum paid in addition to any other insurance policies will lighten the financial burden of the high incidental expenses.
Coverage
Acquired Immuno-Deficiency Syndrome (AIDS)
Alzheimer's Disease / Irreversible Brain Disorder
Aplastic Anaemia
Bacterial Meningitis
Benign Brain Tumour
Blindness
Brain Surgery
Cancer
Cardiomyopathy
Chronic Liver Disease
Chronic Lung Disease
Coma
Coronary Artery Disease
Encephalitis
Fulminant Viral Hepatitis
Heart Attack
Heart Valve Replacement
Kidney Failure
Loss of Hearing / Deafness
Loss of Independent Existence
Loss of Speech
Major Burns
Major Head Trauma
Major Organ Transplant
Medullary Cystic Disease
Motor Neurone Disease
Multiple Sclerosis
Muscular Dystrophy
Paralysis / Paraplegia
Parkinson's Disease
Poliomyelitis
Primary Pulmonary Arterial Hypertension
Stroke
Surgery to Aorta
Systemic Lupus Erythematosus with Lupus Nephritis
Terminal Illness
For more information on PACIFIC Medi-Help, please refer to the Brochure and Product Disclosure Sheet.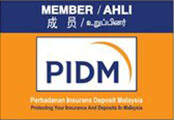 The benefit(s) payable under eligible certificate/policy/product is(are) protected by PIDM up to limits. Please refer to PIDM's TIPS Brochure or contact The Pacific Insurance Berhad or PIDM (visit www.pidm.gov.my).
Questionnaires and Forms
Medical Claim Forms