Scope of Coverage
Indemnify the Insured against all sums which the Insured shall become legally liable to pay as damages in respect of Bodily injury or Property damage arising out of anything harmful or defective in the Product.
Including all reasonable and necessary costs, fees and expenses incurred with prior written consent of the Company in the investigation defence or settlement of any claim made against the Insured and the costs of representation at any inquest, inquiry or other proceedings in respect of matters which have a direct relevance to any claim made or which might be made against the Insured (hereinafter referred to as "Legal costs and expenses"), provided such claim or claims are the subject of indemnity by this Policy.
For detailed information, please refer to TPIB Product Liability Insurance Policy.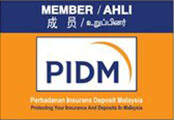 The benefit(s) payable under eligible certificate/policy/product is(are) protected by PIDM up to limits. Please refer to PIDM's TIPS Brochure or contact The Pacific Insurance Berhad or PIDM (visit www.pidm.gov.my).