The Pacific Personal Cyber Insurance (PPCI) Policy is designed to cover You for financial or material losses arising directly from any unexpected cyber threats or events. The policy provides cover for the following insured events and the coverage is on worldwide basis.
Electronic Fund Transfer Fraud
Online Retail Fraud
Identity Theft
Cyber Bullying
e-Commerce Purchase Protection
Note: Please refer to your Policy Schedule/Certificate of Insurance to call the helpline or email the Incident Responder within 72 hours after you become aware of any fact or circumstances that may reasonably lead to a claim under the policy.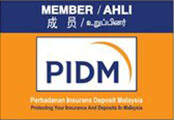 The benefit(s) payable under eligible certificate/policy/product is(are) protected by PIDM up to limits. Please refer to PIDM's TIPS Brochure or contact The Pacific Insurance Berhad or PIDM (visit www.pidm.gov.my).